More famous visitors
Because the New Town was still a showcase we received our fair share of visiting celebrities. When a large fancy good shop was opened the guest was Jill Ireland, then an up-and-coming starlet. Reporters and photographers surrounded her but I recognised her husband, the actor David McCallum, sitting morosely at the back of the room. Although he had not then become famous for his role in 'The Man From Uncle' I interviewed him instead of Jill.
We also had a visit from the then Prime Minister, Harold Macmillan, together with some important Russian dignitaries. After doing whatever they came to do, a reception was laid on in the newly completed Kingswood Community Centre. The Fleet Street boys were there in force and clamoured for a statement from the great man. Although my shorthand was pretty good (220 wpm on the last certificate) I just could not keep up with him and was forced to take aside one of the media hacks and ask for help: fortunately he obliged. I thought Macmillan to be a dour and humourless man who made obvious his low opinion of the media.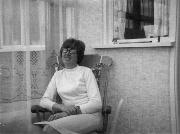 One regular job, for which I always volunteered, was reviewing the productions of local amateur dramatic societies. The best of these was the Langdon Players, in which Joan Sims had started. I don't think I ever saw a dud show and even if there was something not quite right my piece always played it down. My opinion was, and still is, that if people are good enough to give up their spare time to give others enjoyment then they need encouragement, not criticism.
An occasional perk of my job was to be asked to write advertising features. As I was not a member of the NUJ (National Union of Journalists) this was permissible, for often some reward was offered. When a high-class hairdressing salon opened in the Town Centre, I was invited to visit and allow the stylists to give my hair a complete makeover. I started with mid-length mousy brown hair and ended up a platinum blonde with a large chignon of matching false hair. My husband was not amused and it was back to another salon to revert to my usual nondescript self. On other occasions I was given small presents of whatever goodies the store was promoting. Naturally my features were always in the advertisers' favour.
Friends and rivals
Over the years I made a lot of good friends, particularly with rival reporters on the Southend Standard. I just wish I could remember their names. Equally there were people who I managed to upset. These were normally local politicians who often spoke out without thinking of the consequences. When quoting anything I was careful to ensure that my shorthand transcription was accurate - none of them spoke as fast as Macmillan. Unfortunately sometimes the person in question didn't really believe he had said it (yes, they were all men) and I had to stand my ground. Usually my version of events proved perfectly correct, as a corresponding article in the Standard would show a few days later. On occasions we agreed to disagree, but then that particular person would always be 'unavailable' if I needed a comment on some other story.
The clergy in Basildon
Politics were not really my scene, nor were the endless planning enquiries or future plan meetings, quite often held at the Development Corporation's HQ in Bowers Gifford. My preference was to be with interesting people on a one-to-one basis and to discover what made them tick. I especially enjoyed visiting the local clergymen and discussing their respective faiths. My favourite minister, Rev. Gibbings, was at Vange Methodist Church in Timberlog Lane. His Christian name was Ronald and he was a War World II veteran who had been badly wounded. His brand of religion was down to earth and we got on very well.
The Evangelical ministers always tried to convert me (I'm still unconverted). The young RC Father was a breath of fresh air, he was very good-looking and 'with it'. We both belonged to a local debating circle and I enjoyed listening to his logic. It was not really surprising to read a headline story about him in the national press, just after we moved from Basildon. He had been one of the few RC ministers to go against his religion and to marry - I wished him well.
My least favourite cleric was the C of E man whose vicarage was somewhere off Cranes Farm Road. Often he refused to see me, despite having made prior arrangements. When he did deign to admit me it was in a cold hall, no seat, and trying to prise anything out of him other than brief details of whatever event he wanted publicising was impossible. I think his main objection was that I was a woman, and a woman's place was not working on a newspaper.
Starting a family
In late autumn 1960 I realised I was pregnant but kept on working until the beginning of April 1961, the baby being due at the end of May. However I kept in touch with the office if I found a story that someone else could follow up. Just a fortnight before due date I had a frantic 'phone call. Would it be possible for me to cover a fashion show that day, at Woodlands School (not too far away from Codenham Straight), as a reporter had gone home sick. I managed to waddle there and shall never forget the reaction of the young Standard reporter, whose Christian name was John, sitting next to me. I don't think he put very much down in his notebook, he was too concerned at looking at my 'bump' and working out whether I'd give birth there and then.
My first son was born, a fortnight overdue in June, in the back bedroom of 34 Codenham Straight. Eighteen months later we moved to a small bungalow in Wickford, where our second son was delivered in February 1964. The following year we bought an old farmhouse in Hadleigh and within a few months I was working as a part-time journalist again, this time for a newspaper group based in Rayleigh. But that's a different story.
Title: New Town Reporter by Marion Hancock.
Copyright: © Marion Hancock, December 2006.
Comments: This account was supplied by Marion Hancock for use on the Basildon History website.