News and Events

History News events
---
November 2023
Saturday 18th November
Basildon History Facebook Group launched
Basildon History has now launched its own Basildon History facebook group.

This is a public group so all are welcome to visit the page but you are encouraged to become a member and make your own contribution, either by posting your own photo or message, or adding comments or images to existing posts.

To visit either click on the image above or the link below.

Website: Basildon History Facebook Group
---
October 2019
Sunday 6th October
Basildon History YouTube channel launched
Basildon History has now launched its own YouTube channel.

Please like and subscribe as this will help spread the message of this website to others around the world.

To visit either click on the image above or the link below.

Website: Basildon History YouTube Channel
---
April 2015
Saturday 25th April

Tony Stratton Show, Basildon Hospital Radio
Time: 12:00 - 3pm

Local author Lisa Horner will be the special guest on the Tony Stratton Show on Basildon Hospital Radio.
She will be discussing her new book Basildon Through Time which is available at W.H. Smith and all good booksellers.

Title: Basildon Through Time
ISBN: 9781445634944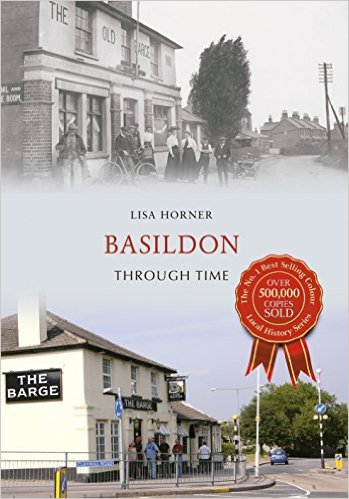 Also available online at Amazon.Co.Uk

You can listen live on the radio on 1287am frequency or
Click the link below to listen to a recording of the live broadcast.
Website: Basildon Hospital Radio Website
---
September 2011
18th September
The Haven Museum, Langdon Hills
Sunday 18th September.
Venue: An open day is being held at The Haven museum in Third Avenue on the former Dunton Hills plotland estate in Langdon Hills.
The event takes place on Sunday 18th September, from 11am 'til 4pm. The 1940s-themed event will include entertainment from The Bretton Entertainers. There will also be stalls such as a home-made cake stall, coconut shy, jam tasting and face-painting. Activities for children include pack a suitcase for a refugee and ten things that shouldn't be in the museum.
Entry is £4 for adults and £2 for children. Free parking.
Address: Langdon Visitor Centre
Lower Dunton Road
Basildon
SS16 6EB
Telephone: 01268 419103
For more information about Essex Wildlife Trust please visit the link below.
Website: Langdon Visitor Centre
---
March 2011
26th March
Laindon and District Community Archive
The Laindon and District Community Archive are holding the official launch of their Community Archive Website.
This event takes place on:
Date: Saturday 26th March, 11:00am. Official launch scheduled for 11:30am. Admission Free.
Venue: Laindon Library, New Century Road, Laindon, SS16 6AG.
Contact Phone: 01268 542065
There will be an exhibition of old photographs of the community.
Open day event poster
---
From Corn to Cordite
The story of the British Explosives Syndicate Pitsea

A new book entitled 'From Corn to Cordite' telling the detailed story of the British Explosives Syndicate has now been published.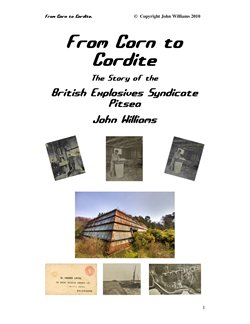 The book on explosives called 'From Corn to Cordite' by John Williams is the result of 25 years painstaking research. The author is an industrial research chemist by background and fully understands the manufacture of explosives.
The many social reasons for the establishment of the British Explosives Syndicate in Pitsea is given in detail.  In particular the repeal of the Corn Laws and the Enclosure Act that altered forever the nature of farm ownership and the price of land.  This fall in land prices brought the British Explosives Syndicate and Plotlands to Pitsea.
The equipment, methods and chemical processes that are part of the explosives industry are described together with detailed description and photographs of the manufacture of Nitroglycerine, Dynamite and Cordite including mixed acid and acetone recovery. The rise and fall in prosperity of the factory at Pitsea near Canvey Island in Essex is described and gives a national picture of the industry in general up to and from World War One to the 1920's. The book is the history of a small company in a backwater that became Wat Tyler Park in Essex, but can be used as an example of most high explosives factories and munitions plants, like the British Dynamite Company Ltd. Trades Unions and wages are discussed. The fatal explosions are described in detail. The list of names of employees will be useful for family history researchers. There are many references to the Local history of Pitsea, Vange and Essex.

The book is of A4 Size with 550 pages and many illustrations.

How to purchase
The book can be obtained by post from the author via the website for £25.00 including postage or collected from the Shop in Wat Tyler Park Information Centre for £20.00.
From Corn to Cordite website
---
The Essex Wildlife Trusts Plotland museum housed in The Haven at Third Avenue, Lower Dunton Road, Basildon will be featured on BBC's The One Show.

Architect Sean Griffiths created a short film in which he interviews Brian Mills (whose parents built the bungalow). Sean will be at the studio to discuss his film with the presenters.

The film is currently scheduled to be aired on The One Show BBC1 on Tuesday, 9th February, 2010.

Essex Wildlife Trust Langdon Hills Visitor Centre
---
A new book on Basildon by local author Michael Healy is now available to purchase.

The book is entitled "This is Basildon" and covers many aspects of Basildon's continuing development.

It is fully illustrated with 191 pages and priced at £9.99.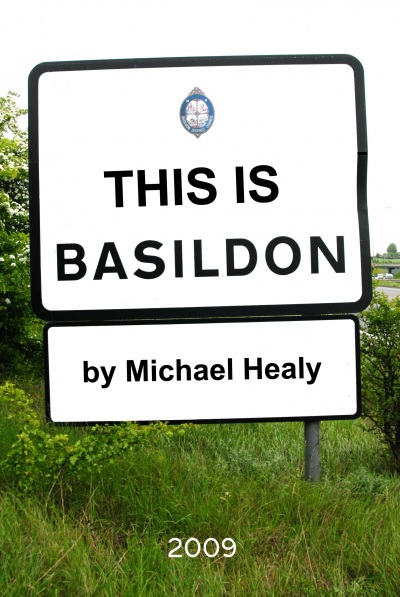 For more information on both the book and the author please visit Michael Healy's website: This is Basildon Book.


Please click below to return to the homepage or use
the navigational site menu located at the top of the page.
Page added: 04/12/2009

Contact: E-Mail