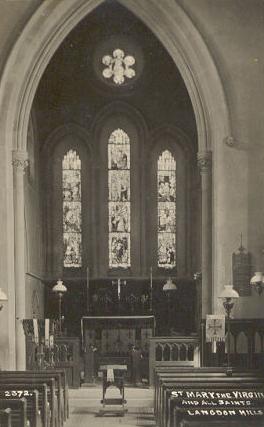 St. Mary's and All Saints church was built in 1877.
It was built to replace the church of St. Mary's & All Saints in Old Church Hill. That church is now a private residence having become redundant in October 1971. The new church, situated in the High Road at the summit of Crown Hill, was far more accessible and remains a prominent feature in the local landscape.
During 1972 the bells remained silent following a survey of the tower which required restoration work. The Rector, Rev. David Cook organised a restoration fund to raise £5,000 towards the repair work.
The church is now a Grade II listed building.
---
The following is taken from the 1894 edition of Kelly's Directory of Essex.
The parish church of the same name, built in 1877, on the top of the hill, is an edifice of Kentish ragstone with Bath stone dressings, in the Early English style, consisting of chancel, nave, north aisle, divided from the nave by an arcade of three bays, south porch and a massive western tower containing 6 bells: the east Window and two others are stained: there are 230 sittings. The register of baptisms and burials dates from 1686; marriages, 1690.
The directory of 1914 is identical to that of 1894
---
Notes:
1) The church received listed status on 20th July 1995.