The cricket pavilion stood opposite The Crown public house (now Miller and Carter Steakhouse), Crown Hill, Langdon Hills, and had the distinction of being situated at the second highest point in Essex, 384 feet above sea level.

The green, known as Crown Meadow, is owned by a brewery company and had been home for many years to the Langdon Hills Cricket Club. The club, founded in 1900, used two grounds but played most of their cricket at Crown Meadow through to the late 1980s or early 1990s when high rents forced a move to nearby Corringham Recreation Ground.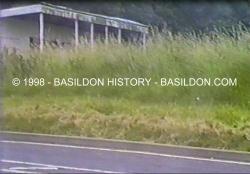 The wooden pavilion was built by brewery company Ind Coope, who also owned the meadow, and opened around 1967. It replaced an earlier wooden structure and had changing rooms, a veranda and a clubroom.
In 1935 the Langdon Hills Cricket Club President was well known local man Harry Bebington, who was also Chairman of Billericay Urban District Council. Another distinguished President in the 1960s was Allan Henbest, whose family run business opened the first shop in Basildon Town Centre in August 1958.
The meadow is no longer used for cricket and the grass has been allowed to grow wild. This allowed a gypsy encampment during the late 1990s to set up a temporary site, which upon their departure left a portion of the field strewn with household rubbish and heaps of building rubble amidst a trashed caravan. This prompted an earth embankment to restrict vehicular access to the field.
The single storey pavilion, the third to be built, fell into a state of disrepair before being destroyed by fire in a suspected arson attack in the late 1990s. The concrete floor is now all that remains.
Note of interest

1) Chrishall Common, near the village of Langley in the north of Essex, is the highest point at 482 feet (147 metres) above sea level.
2) The field was also used by Langdon Hills primary school for their sports days up to the early 1970s and also on occasion as a football pitch, this being laid out with each goal side on to the road.