A day trip to Basildon
My first ever visit to Basildon was in November 1956. An engineering company with its Head Office in the New Town had offered my husband a job with the promise of a rented house early in the New Year. As newly weds, living in a couple of furnished rooms in North West London, the idea of a place of our own was a dream. Apart from summer visits to Southend-on-Sea, Essex was an alien land to me but that didn't matter, I just wanted a proper home. It seemed sensible, however, to 'case the joint' first and unfortunately chose a drear Saturday to do so.
Once past Tilbury, on the Fenchurch Street line, the steam train passed through flat and uninteresting, marshy countryside before pulling into a cold and empty Pitsea station. Buses were few and far between but one came, eventually, and confidently my husband asked for tickets to Basildon Town Centre. How the conductor laughed. "There isn't a town centre yet", he told us. "It's still being built!"
We were looking for lodgings the employers had provisionally arranged for us, in Theydon Crescent on the Fryerns Estate, which we had been told was close to the town centre. The bus stopped in Whitmore Way near a modern pub and a couple of shops, a short walk from our destination. The landlady was friendly and the room offered satisfactory, so we made arrangements to move in at the end of the month, just before my husband was due to start work as a design draughtsman with Teleflex.
From Theydon Crescent we walked towards what would be part of the town centre. All we could see was one vast building site with a main road already constructed, running parallel with the railway line. However there was no access through to Clay Hill Road, going back towards Pitsea, as no bridge had yet been built. So it meant a trudge back to Whitmore Way and a long wait for a return bus. It had rained steadily all afternoon and we were cold, wet and muddy.
First impressions
Nevertheless, during our brief tour we had been impressed by the layout of the parts of the New Town already built and the style of houses either occupied or under construction. We particularly liked the cottage-like style and wooden cladding features of a nearly finished terrace in Pinmill. I hoped it might be one of these houses that would be offered to us.
There was plenty to talk about back home and we happily explained to our respective families that we were going to be 'pioneers'. Everything was so different from the built-up area in which we lived, with all facilities a stone's throw away. We did not realise then that the new town was already five years old and that many before us had been the real settlers!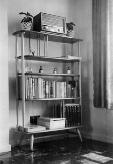 In London everything was packed up, including a bed and wardrobe (our only furniture), and left with a relative for collection by a removal firm once we had a house to go to. Just before we left we went to the fashionable G-Plan store in Harrow, Middlesex and spent the majority of our meagre savings on some of the newly introduced Ercol furniture. For the enormous sum of £110 (plus £5 guineas for delivery to the removal firm) we bought a five-foot solid wood dining table and four chairs; a beautiful sideboard; a room-divider/bookcase; three coffee tables and two large Windsor style armchairs. Fifty years later I am still using all of them and only the upholstery on the chairs has had to be renewed.
Living in digs
We actually arrived in Basildon on the 1st December 1956, with our suitcases piled into the back of my brother-in-law's vintage OM tourer and our bicycles (the only means of transport) strapped somewhere to its rear. The design office of Teleflex, whose main building was on the Cranes Farm Road Industrial Site, was still operating from Chadwell Heath (where the interview had taken place). Until that section moved to Basildon it meant my husband cycling to Cranes Farm Road to pick up the Company coach at 6.30 am each morning and cycling back again at night. Whilst we stayed in our Theydon Crescent digs this was no real problem but once we moved it proved a different story, especially when fog prevented the coach from running.
My first priority was to find a job as money was in short supply. In London I had been working part-time, my young husband being old-fashioned enough to believe a woman's place was in the home. Full-time vacancies only were available at the employment exchange, which I think was in Vange. An interview for a position as shorthand-typist was arranged with Bonallacks, the vehicle body builders on the Industrial Estate almost opposite the Teleflex building. My qualifications as a secretary proved quite adequate and I was offered the job there and then. I think they were desperate! So a week later I started, complete with two black eyes and severe bruising to my legs, after falling off my bike. The accident, due to misjudging the distance between two posts at the end of a track, put me off cycling for good and it was back to walking.
An early disappointment
With both of us working all week, and with winter firmly upon us, we had little time to do much more exploring except at weekends. The Pinmill houses still showed no signs of being occupied so I kept my fingers crossed. Being in digs there wasn't much shopping to do but I had worked out that Vange or Pitsea would have to be our main centres, for our expected house certainly would not be on the Fryerns estate.
Christmas came and went (we returned to London for the festive season) and I was very despondent that by the middle of January we still hadn't heard from Basildon Development Corporation about a house. I didn't like the weather, it was cold and damp with thick fogs: the job I was doing was boring, despite having the likes of famous golfer Michael Bonallack, and his young sister Sally, visiting the offices frequently. Teleflex design office's move to Basildon kept being delayed and living in digs was beginning to get on my nerves. The final straw was seeing people moving into the Pinmill houses, which looked absolutely fabulous once finished.