Other local history books

Thurrock Area
---
The following is a list of other books and publications that might be of interest to those seeking information on local history in the Thurrock area, including Fobbing, Coryton and Stanford-le-Hope. Please note, the list is far from comprehensive and even some of these titles are becoming scarce but can serve as a guide to what is available.
As with the Basildon books, these titles are well written, often by local authors with factual information and stories recounting the 'old days'.
Contained along with the text are a wealth of old photographs and picture postcards.
---
Title:
Fobbing - Life and Landscape
Author:
Randal Bingley
Copyright:
© 1997
ISBN:
0-9528789-1-7
Publisher:
Lejins Publishing
Description:
Thorough in-depth account of the history of Fobbing. 252 pages with 32 photographs and an abundance of illustrations make this the definitive history of the village.
---
Title:
Coryton - The History of a Village
Author:
Winifred N. Scott
Copyright:
© 1981
ISBN:
0-9507934-1-8
Publisher:
Mobil Oil Company Limited
Description:
From its creation in 1899 as Kynochtown to the final days in 1969 when the village was absorbed into the Mobil Oil Refinery. Fully illustrated with over 40 photographs plus a small section on the long forgotten Corringham Light Railway.
---
Title:
The Corringham Light Railway
Author:
I. Gotheridge
Copyright:
© 1985
ISBN:
0-8536-1311-7
Publisher:
The Oakwood Press Ltd (No.155)
Description:
Little known industrial line initially built to serve the Kynoch explosives factories on the banks of the River Thames in Essex. 56 pages and over 40 photographs detail the lines history from its opening in 1901 through to closure in 1952.
---
Title:
Thurrock in old picture postcards
Author:
K.E. Fryer
Copyright:
© 1984
ISBN:
90-288-3071-5
Publisher:
European Library - Zaltbommel/Netherlands
Description:
Towns and villages of Thurrock as seen in picture postcards. More than 130 pictures; many from late Victorian early 1900s, make up this book complete with descriptions and an introduction from noted historian Randal Bingley. Now in tenth edition.
---
Title:
A Century of Thurrock
Author:
Brian Evans
Copyright:
© 1999
ISBN:
0-7509-2429-2
Publisher:
Sutton Publishing Limited
Description:

---
Title:
Exploring Thurrock - An Historical Guide
Author:
Christopher Harrold
Copyright:
© 1994
ISBN:
0-9506141-4-9
Publisher:
Thurrock Council/Thurrock Local History Society
Description:

---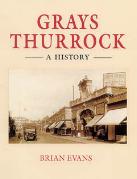 Title:
Grays Thurrock A History
Author:
Brian Evans
Copyright:
© 2004
ISBN:
1-86077-305-2
Publisher:
Phillimore & CO. Ltd
Description:
Fully illustrated. Hardback with dust jacket.

Page added: 03/09/2004

Contact: E-Mail