Other local history books

Thundersley Area
---
The following is a list of other books and publications that might be of interest to those seeking information on local history in the Thundersley area. Please note, the list is far from comprehensive and even some of these titles are becoming scarce but can serve as a guide to what is available.
As with the Basildon books, these titles are well written, often by local authors with factual information and stories recounting the 'old days'.
Contained along with the text are a wealth of old photographs and picture postcards.
---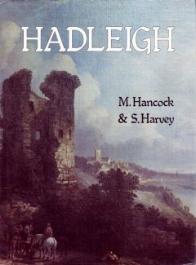 Title:
Hadleigh: An Essex Village
Author:
M. Hancock & S. Harvey
Copyright:
© 1986
ISBN:
0-85033-624-4
Publisher:
Phillimore & CO. Ltd.
Dimensions:
(H) 10" x (W) 7 ½" (254 x 190mm). Hardback in dust jacket.
Description:
Hadleigh remained a quiet, backward village until the the turn of the 20th century, allowing progress to pass it by. However, the break-up of the big farming estates into development areas: the 'invasion' of the Salvation Army for the establishment of their Home Farm Colony, and a widened main road providing a direct route for hordes of trippers bound for the coast, all led to the village, with some reluctance, becoming a town.

This was the first book about Hadleigh to be written and the two local authors, Marion Hancock and Sandra Harvey, went to great lengths to access historical records and to obtain old photographs. It is unlike many other local history books published in the last 20 years which often contain only old photographs with a caption. 'Hadleigh' has detailed chapters on many aspects of the town's history, plus the photographs, and several illustrations and maps, drawn by Sandra. 116 pages.
---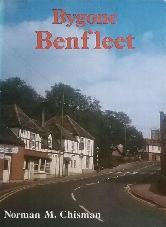 Title:
Bygone Benfleet
Author:
Norman M. Chisman
Copyright:
© 1991
ISBN:
0-85033-779-8
Publisher:
Phillimore & CO. Ltd.
Dimensions:
(H) 10" x (W) 7 ½" (254 x 190mm). Hardback in dust jacket.
Description:
Excellent history of Benfleet by Norman Chisman, who at the time was Chairman of the Benfleet and District Histrorical Society and had spent part of his working life as a Public Relations Officer for Basildon District Council. He lived in Benfleet from 1945 and among other pursuits ran the local tennis club for 35 years. Amongst the photographs are shots of the Thames crossing to Canvey Island, before and after the first bridge was built. Book is unpaginated but has 122 pages and is fully illustrated with 162 black and white photographs, some as early as 1900.

Page added: 03/09/2004

Contact: E-Mail