I arrived in Basildon in November 1964 from Watford following the break up of my marriage. I stayed with a friend in Luncies Road, who was the manager of Kingstons Butchers in Market Square, Basildon. He gave me a job, as butchering was my trade, and I also got a part time evening job at the Locarno Ballroom where I met my wife Shirley, who also had a failed marriage, and worked part time in the box office.
Mobile Shop
I had the idea of a mobile shop from a colleague I had worked with in Watford, and thought Laindon would be an ideal spot to try it. Also I spoke to Harrington's Butchers in the High Road about the possibilities.
I started out in 1966 with a secondhand Bartons Bread van that cost £50, and a small shop to run it from in Gainsborough Drive, Southend. The weekly rent was the princely sum of thirty shillings equivalent to £1.50 a week. I consequently had to give that shop up as I found it impossible to park the van on the Friday's Southend United used to play. I then rented a small part of a shop on the corner of Glebe Road, Ramsden Bellhouse. Shirley worked in the shop in the mornings while I was out with the van, and then did her evening job at the Locarno while I babysat for her. I bought a secondhand ambulance to carry on with my round as it met more of the hygiene regulations needed to carry out my business. This was later updated with a Smiths Mobile Shop, again secondhand, which I bought in Hadleigh.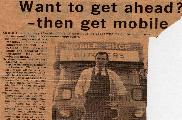 Shirley and I got married in August 1968, and I was then able to operate from home as we had a large garage area at the back of the house. We had leaflets printed, and canvassed streets around Laindon and Langdon Hills to get more business. I started selling eggs, potatoes and tinned foods at the request of my customers. It was a very rewarding occupation as I got to know whole families, saw children grow up who later themselves became customers. Also helping the old folk get their coal in and posting their letters all became part of the job. It was a blow for me when the Laindon Shopping Centre opened late 1969 and I lost a third of my trade. But undaunted I ventured further afield into Basildon and Pitsea and business picked up again. After the initial opening of the Laindon Centre a lot of my customers drifted back to me, they liked the convenience of just opening their front door, doing their shopping, and having a natter to the other customers.
New Lorry
In 1975 I bought my first new lorry, the cab was purchased in Springfield, Chelmsford, and the body custom built by a firm near Bishops Stortford. It was delivered to me on 27th December 1976, the best Christmas present I ever had, and my pride and joy. We all stood outside and watched as it came down the road, and all the neighbours came out, had a look around and were really impressed.
Family Business
It was a real family business as the two children helped out at weekends on the van when they were old enough, and Shirley did all the bookkeeping and VAT. It was very helpful that she was familiar with the meat trade, having been the cashier that opened with Matthews Butchers in 1959.
I continued trading until April 1st 1989, passing the van over to a John Cooper. I went round with him for 2 weeks acquainting him with my customers before relocating to Norfolk at the end of April 1989.
Basildon holds fond memories of my life there, and a big thank you to all my customers for their support over the years.
Ray Crosbie.
Title: Ray's Family Butchers by Ray Crosbie.
Copyright: © Ray Crosbie, August 2008.
Comments: This account was supplied by Ray Crosbie for use on the Basildon History website.