1951 New Town Street Plan of Basildon
---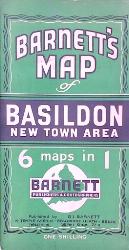 1) Basildon Street Map - Part One: Dunton/Laindon/Langdon Hills
2) Basildon Street Map - Part Two: Basildon/Lee Chapel/Vange
3) Basildon Street Map - Part Three: Nevendon/Pitsea
Please note: These maps are of a large file size so loading may be slow.
This street plan of Basildon New Town Area was produced by G.I. Barnett (now G.I. Barnett & Son), publishers & cartographers. The company, which was then based at Becontree Heath in Essex, began publishing local area street plans in 1951 and this is believed to be the earliest known example that exists of Basildon. Later Barnett street maps were of a reduced size format which has continued to the present.
The street plan of Basildon New Town Circa 1951 is shown in three separate sections.

References to Ward numbers in capitals i.e. WARD No.6 (BURSTEAD-LAINDON) represent the then Billericay Urban District Council polling Wards that existed from 1937 to February 1959 of which parts of 4 of the 6 Wards fell within the designated area of the new town. The boundary of the designated area is shown shaded with a black tracer line. Other notable features are also shown such as churches, schools, farms etc.
The area chosen for the site of the town centre is shown on map two, but as development had not yet begun, the area between the railway line and Hotwater Lane can be used as a guide to its eventual placement.

Some roads that survived the redevelopment, such as Church Road, High Road and London Road, Vange, Tylers Avenue in Laindon and the Laindon High Road can be seen, along with Timberlog Lane which was later truncated at both ends with sections later renamed Clay Hill Road, Timberlog Close and Craylands. Also of note is Rectory Road, Basildon, where Basildon Rectory once stood and now the site of the Tractor Plant in Cranes Farm Road. A small section still survives in what is now called Gardiners Close off Gardiners Lane South.
The only clue as to the coming development can be seen on the third map, where the Nevendon Industrial Area (No.1) was then currently under construction.
Notes:

1) G.I. Barnett, 19 Temple Avenue, Becontree Heath, Essex. The map on show was priced at One shilling (5p). During the 1950s the company, which by then had become G.I. Barnett & Son Ltd., relocated to Rowallan House, Little Heath, Chadwell Heath, Essex, followed by Graphia House, Rippleside Commercial Estate, Ripple Road, Barking, Essex and is now based at 6 Tadworth Parade, Elm Park, Hornchurch in Essex.